For EDC use, the Spyderco Native is kind of like the edged equivalent of the S&W Model 640: they're both meticulously well-made and comfortable to carry. And both pack a mean punch, too. Like the 640, the Native is so comfortable there's no reason you won't have it with you when you need it, but it's probably not the tool you'll want in your hand for heavy or extended use. It's not really made for that . . .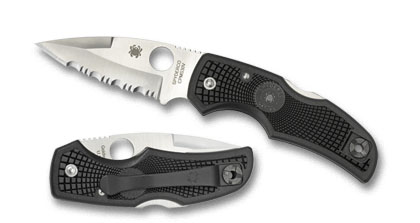 The not-quite-deep pocket clip may not provide the utmost in concealment, so go ahead and remove it. It's made for pocket carry at just 2.6 ounces and 3 inches folded (and 0.45″ thick) and nobody will ask "Is that an Endura in your pocket, or are you just happy to see me?"
Spyderco cut a few corners to keep this knife lightweight and affordable: the blade pivot is secured with a rivet instead of a tiny Torx bolt, and the one-piece grip body is more flexible FRN instead of rigid G10.
Stay tuned for a full review.